Biography of Scout Stormcloud
Scout Stormcloud first showed her art in Austin Texas in a group show at the Armadillo World Headquarters in 1975. Also during the seventies, she painted in the Sheauxnough Studios, and was in a group show with Women and Their Work at Laguna Gloria. In 1982 Scout had her first showing at the Shown-Davenport Gallery in San Antonio. During this period Scout painted a number of commissions, including portraits and landscapes.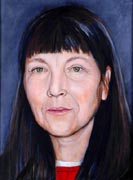 In the Nineties,Scout earned a B. A. in Art from St. Edward's University in Austin, winning the Juror's Choice Award in ceramics in 1996. In recent years, Scout has shown work with the Austin Visual Arts Association, the Museum of Fine Arts, Austin, at Cafe Lago, Wild About Music, Gallery Lombardi, and in Houston at a benefit for the Huffington Center on Aging.